Welcome to the Champlain Valley Chapter of ASHRAE Web Site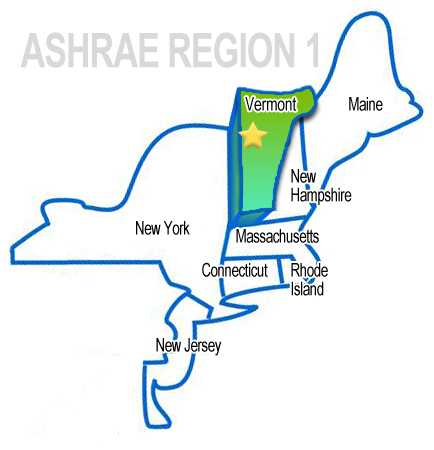 The American Society of Heating, Refrigerating and Air-Conditioning Engineers, (ASHRAE) has 176 Chapters across more than 128 countries. The Champlain Valley Chapter (CVC) of ASHRAE is located in the Burlington, VT area and is one of the 15 chapters within Region I. Our CVC Chapter members are composed of engineers, designers, consultants, contractors, equipment representatives, building owners and operators, and professionals interested in efficient HVAC&R technology. This website has been developed to keep our members and the general public informed of scheduled events as well as providing our members a resource to perform chapter operational functions, and a location to archive out Chapter's history, activities, reports and events.
Upcoming Events
Chapter Meeting: Friday, February 12th
11:30 Lunch
11:45 – 12:45 Past and Present Methods of Reducing Head Pressures to Save Energy.
Peter Bailey and Ray Hickey will discuss the various ways the refrigeration industry has improved on design changes for saving energy in the refrigeration cycle.
Past President's Memorial Scholarship
The Past President's Memorial Scholarship was founded in 1991. At that time, five companies, GWR Engineering, Hallam Engineering, Avengco Engineering, Hertzberg Engineering, and Mechanical Consulting Services, contributed to create the scholarship given in the memory of Tom Wolfstich.
The requirements include enrollment in a four-year college with completion of at least three semesters or enrollment in a two-year college with completion of at least two semesters, Enrollment in the college's mechanical engineering or architectural engineering program, a minimum overall 3.0 grade point average, the student must demonstrate a financial need, and shows interest in pursuing a career in an ASHRAE oriented field.
Applications are Due Friday, February 26th.
Northeast Biomass Heating Expo March 30th to April 1st

We hope that you will consider attending the Northeast Biomass Heating Expo March 30th to April 1st in Burlington, VT. What started out as "Heating the Northeast with Renewable Biomass" in 2009 has now grown into the Northeast Biomass Heating Expo, with over 1,500 individual attendees and 400 businesses, agencies, and organizations represented since that year. Industry expert speakers, panel discussions, presentations, educational sessions and opportunities for tours and workshops make the Northeast Biomass Heating Expo an invaluable event for networking across industry, organizations, and government while also building a comprehensive knowledge base on biomass thermal heating. For more information visit http://nebiomassheat.com/. If you would like to receive monthly updates on our chapter meetings and technical presentation topics, Like CVC ASHRAE on Facebook or join our mailing list.
<!– Begin MailChimp Signup Form –>

<!–End mc_embed_signup–>