Welcome to the Champlain Valley Chapter of ASHRAE Web Site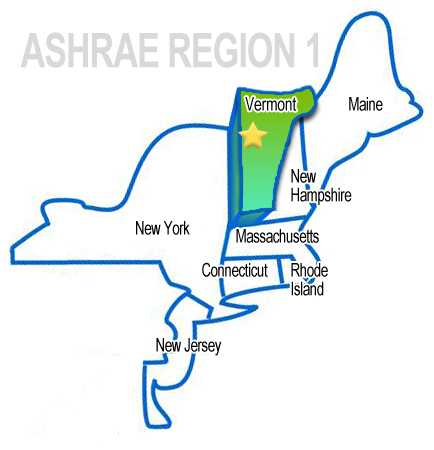 The American Society of Heating, Refrigerating and Air-Conditioning Engineers, (ASHRAE) has 176 Chapters across more than 128 countries. The Champlain Valley Chapter (CVC) of ASHRAE is located in the Burlington, VT area and is one of the 15 chapters within Region I. Our CVC Chapter members are composed of engineers, designers, consultants, contractors, equipment representatives, building owners and operators, and professionals interested in efficient HVAC&R technology. This website has been developed to keep our members and the general public informed of scheduled events as well as providing our members a resource to perform chapter operational functions, and a location to archive out Chapter's history, activities, reports and events.
Upcoming Events
April 5th, 2017 – ASHRAE Distinguished Lecture Series
Thermally Active Structures Technical Session
Our April meeting will feature ASHRAE Distinguished Lecturer Daniel Nall and his presentation on "Thermally Active Structures for Green Buildings". Presentation attendees will be eligible to receive 1 GBCI CE and 1 AIA LU.
Holiday Inn, 1068 Williston Rd., South Burlington
5:15 Registration, Networking, Cash Bar
6:00 Chapter Business
6:15 Dinner
6:30 Presentation: "Thermally Active Structures for Green Buildings" presented by
Daniel Nall PE, FAIA, FASHRAE, LEED Fellow, BEMP, HBDP, CPHC
Syska Hennessy Group, Inc.
Presentation Abstract:
Thermally active structure is an evolving strategy that has become a popular system in green buildings.  Originally implemented for heating only, as radiant heating floors, this strategy has, over the past 20 years been implemented also as a cooling strategy.  The addition of cooling capability adds a number of design constraints and potential operational problems to the successful implementation of the system.  This presentation explores the many design, construction and operational issues of thermally active heating and cooling structures.  Issues addressed include
•    Most effective applications of the technology
•    Design issues
•    Design tools
•    Construction issues
•    Constraints and limitations
•    How-to tips
Case studies of successful implementations
We hope you will join us.  Please RSVP by Friday, March 29th.  An accurate attendee list helps us keep the chapter dues and meeting costs as low as possible.  Thank you!
Will you be attending this meeting?
$30 ASHRAE and AIA Members, $35 non-members
<!– Begin MailChimp Signup Form –>

<!–End mc_embed_signup–>