Welcome to the Champlain Valley Chapter of ASHRAE Web Site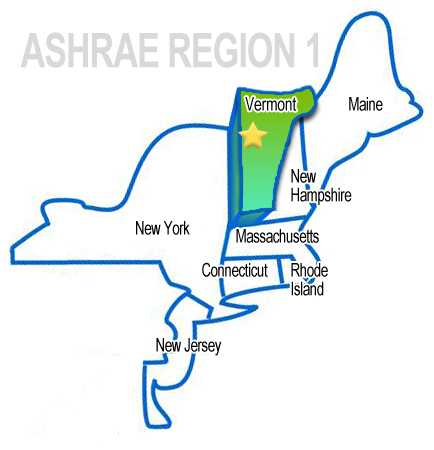 The American Society of Heating, Refrigerating and Air-Conditioning Engineers, (ASHRAE) has 176 Chapters across more than 128 countries. The Champlain Valley Chapter (CVC) of ASHRAE is located in the Burlington, VT area and is one of the 15 chapters within Region I. Our CVC Chapter members are composed of engineers, designers, consultants, contractors, equipment representatives, building owners and operators, and professionals interested in efficient HVAC&R technology. This website has been developed to keep our members and the general public informed of scheduled events as well as providing our members a resource to perform chapter operational functions, and a location to archive out Chapter's history, activities, reports and events.
Upcoming Events
ASHRAE Distinguished Lecturer, R. VIJAYAKUMAR, Ph.D.
Wednesday, December 3rd
5:00pm, Hampton Inn, Colchester
Presentation: The Basics of Cleanroom Desing
Ensuring that a cleanroom meets its desired cleanliness objectives requires an understanding of the key elements of cleanroom designs. This seminar will present the essential concepts of air filters and their performance, good airflow management, and common room layout and designs. Since these are the key elements of good cleanroom designs, a basic knowledge of these will lead to good designs.
Meeting Agenda:
5:00 Social hour
6:00 Chapter Business
6:15 Dinner
7:00 – 8:00 Presentation
Presenter Bio: Vijayakumar is the founder and head of AERFIL, a consulting company devoted to providing technical and business solutions and services for the filtration and contamination control industry as well as educational and training support for the industry. His current clients include major filtration companies in China, Brazil and India. With over 30 years' experience in leading filtration and particle test instrument companies to go with his PhD in particle technology, Vijayakumar is a globally recognized expert and mentor in contamination control and filtration sought after by clients worldwide. He is an advisor to NASA for air filtration systems for space habitat.
In keeping with his philosophy that knowledge grows only by sharing, he teaches freely and often wherever someone wants to learn the subject. He has been on the faculty of the short course on air and gas filtration at the University of Minnesota since its inception and is a Distinguished Visiting Professor at the Chinese Academy of Building Research. He has taught courses in cleanroom designs for ASHRAE, and is a Distinguished Lecturer for them lecturing around the world on various aspects of filtration and cleanroom designs. He has served as the President of the IEST, the premiere contamination control organization in the US. Currently, he chairs standards development committees at the ISO and in the US writing standards for high efficiency filters used in cleanrooms, hospitals, and indoor environments.
 Like us on Facebook!
A copy of the presentation given at the October meeting can be downloaded here: