Welcome to the Champlain Valley Chapter of ASHRAE Web Site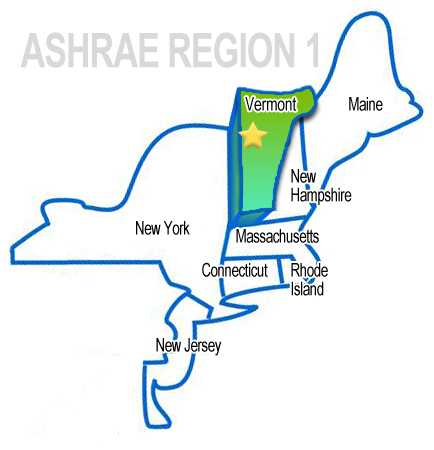 The American Society of Heating, Refrigerating and Air-Conditioning Engineers, (ASHRAE) has 176 Chapters across more than 128 countries. The Champlain Valley Chapter (CVC) of ASHRAE is located in the Burlington, VT area and is one of the 15 chapters within Region I. Our CVC Chapter members are composed of engineers, designers, consultants, contractors, equipment representatives, building owners and operators, and professionals interested in efficient HVAC&R technology. This website has been developed to keep our members and the general public informed of scheduled events as well as providing our members a resource to perform chapter operational functions, and a location to archive out Chapter's history, activities, reports and events.
Upcoming Events
Chapter Meeting – Wednesday, April 16

The April Chapter meeting will be hosted by the Vermont Technical College student chapter and will be held at their campus in Randolph, VT in the Shape Center.
(Link to VTC Campus Map)
5:30PM Presentation & Tour – Professor Mary O'Leary will be providing a presentation and tour of VTC's newly constructed Anaerobic digester project.  Mary is a professor in the Civil Engineering Department at VTC and was the Project Manager for the Vermont Tech Community Anaerobic Digester Project.  She will be providing an overview presentation of the project following with a tour of the facility.  More information of the VTCAD Project can be found at the following website:  http://digester.vtc.edu/
6:45PM – Dinner
7:15PM Dinner Session – VTC students will be presenting on their 2014 ASHRAE Student Design Project.  This year's student competition focuses on a 2 story office and research & development facility in New York City.  More information can be found at the following link:  https://www.ashrae.org/membership–conferences/student-zone/design-competition
 Like us on Facebook!
Hill Phoenix Refrigeration Seminar – Tuesday, April 15.

Other Upcoming Events