Welcome to the Champlain Valley Chapter of ASHRAE Web Site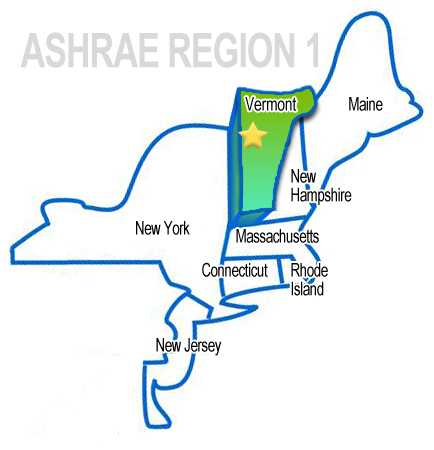 The American Society of Heating, Refrigerating and Air-Conditioning Engineers, (ASHRAE) has 176 Chapters across more than 128 countries. The Champlain Valley Chapter (CVC) of ASHRAE is located in the Burlington, VT area and is one of the 15 chapters within Region I. Our CVC Chapter members are composed of engineers, designers, consultants, contractors, equipment representatives, building owners and operators, and professionals interested in efficient HVAC&R technology. This website has been developed to keep our members and the general public informed of scheduled events as well as providing our members a resource to perform chapter operational functions, and a location to archive out Chapter's history, activities, reports and events.
Upcoming Events
April Chapter Meeting – 2015 VT Commercial Building Energy Standard (a.k.a. "The Code")
Please join us on Wednesday, April 1st at the Holiday Inn for a technical presentation highlighting the major changes to the state's energy code (the 2015 VT CBES) and discussion of the impacts on your upcoming commercial building projects.  This will be a 2 part presentation.  The first will be on the major changes from the previous version of the code.  The second will be a  more in depth look at factors that impact the HVAC industry in particular followed by a Q&A session.
Meeting Agenda:
5:00 Registration & Cash Bar
5:30-6:30 Technical Program #1
6:30 Dinner
7:15 Chapter Business
7:30 – 8:30 Technical Program #2
Presenters -
Barry Murphy – Barry Murphy is a Civil Engineer and the Energy Programs Specialist at the Vermont Public Service Department (PSD) and manages implementation of the 2015 CBES.
Keith Downes – Keith Downes is an Associate director for Navigant in the Customers and Markets Practice Area. Keith advises utilities across North America in both program design and program evaluation, and conducts best practice, baseline and potential studies. Prior to Navigant, he was an energy advisor at Efficiency Vermont specializing in commercial new construction projects. Keith earned an M.S. in mechanical engineering from Lehigh University and is a certified energy manager.
Stu Slote – Stu Slote is an Associate Director with Navigant in Burlington, Vermont. Stu has over 25 years of experience in the energy efficiency industry His areas of expertise include design of, implementation support for, and evaluation of demand-side programs; assessment, screening, and promotion of energy efficiency markets and measures; and building energy codes development, adoption, implementation and assessment.
 Like us on Facebook!
A copy of the presentation given at the October meeting can be downloaded here: