Welcome to the Champlain Valley Chapter of ASHRAE Web Site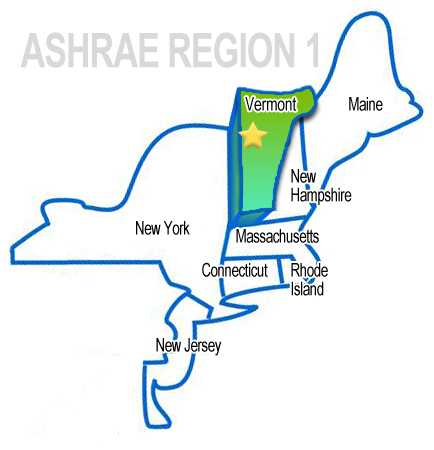 The American Society of Heating, Refrigerating and Air-Conditioning Engineers, (ASHRAE) has 176 Chapters across more than 128 countries. The Champlain Valley Chapter (CVC) of ASHRAE is located in the Burlington, VT area and is one of the 15 chapters within Region I. Our CVC Chapter members are composed of engineers, designers, consultants, contractors, equipment representatives, building owners and operators, and professionals interested in efficient HVAC&R technology. This website has been developed to keep our members and the general public informed of scheduled events as well as providing our members a resource to perform chapter operational functions, and a location to archive out Chapter's history, activities, reports and events.
---
Upcoming Events
Presentation Topic
The Present & Future of Solar Electric Power in Vermont
The solar electric industry has undergone significant changes recently, particularly in the last five years.  As investment in these equipment and systems becomes more financially attractive, building energy standards become more demanding, and building owners continually look to minimize their utility bills and environmental impacts, it is important for all of those in the building industry to keep up to date.  The first part of the presentation will cover Vermont's goal of 90% renewable energy by 2050, the Solar Pathways goal of 20% solar electricity by 2025, and the challenges as well as solutions to achieve those goals.  The second part of the presentation will review examples of different commercial Vermont projects (ground and roof mount), cover costs, leases and financing structures, current regulations in Vermont particularly siting and renewable energy credits, and energy storage.
Presenters
Damon Lane & Chad Nichols
Damon Lane is a Lead Analyst at the Vermont Energy Investment Corporation specializing in energy planning. He has extensive scenario modeling and analysis experience, including leading the modeling for the Vermont Solar Pathways project, a DOE-funded examination of solar providing 20% of Vermont's electricity by 2025. He is working on a similar project investigating 10% solar by 2030 for the much larger energy system in Pennsylvania.  Damon has conducted potential studies and energy plans for individual grid circuits, cities and towns, schools and other facilities, and for states; work that spans from the electrical engineering issues of grid operations, to public policy and planning at the state and regional level. He has a bachelor's degree in mechanical engineering from Penn State and a master's degree in sustainable energy engineering from the Royal Institute of Technology in Stockholm.
Chad Nichols is Encore Renewable Energy's Director of Project Development and Construction. Chad has a decade of sustainable operations management and commercial construction experience in Vermont and across the Midwest. He is an experienced manager of complex renewable energy development projects including site and asset management, risk reduction, and schedule acceleration. Prior to joining Encore, Chad was the Sustainability and Asset Manager for Vermont Energy Investment Corporation where he managed all physical assets, carbon impact measurement as well as a solar subsidiary, Sun Shares. Before relocating to Vermont in 2008, Chad was a project and site manager for large commercial construction projects in Minneapolis, Chicago and across Ohio. Chad serves on the CarShare Vermont Board of Directors and is a Climate Leader with The Climate Reality Project, a LEED AP and a FAA Certified sUAS Drone Pilot.
---