Welcome to the Champlain Valley Chapter of ASHRAE Web Site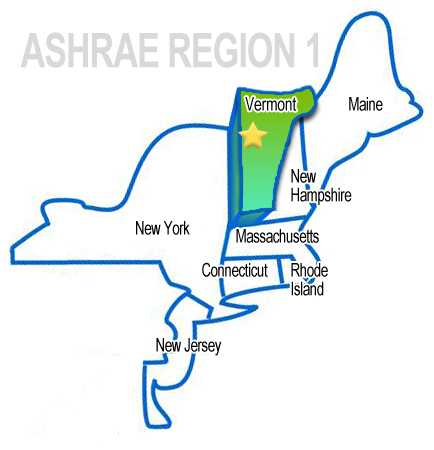 The American Society of Heating, Refrigerating and Air-Conditioning Engineers, (ASHRAE) has 176 Chapters across more than 128 countries. The Champlain Valley Chapter (CVC) of ASHRAE is located in the Burlington, VT area and is one of the 15 chapters within Region I. Our CVC Chapter members are composed of engineers, designers, consultants, contractors, equipment representatives, building owners and operators, and professionals interested in efficient HVAC&R technology. This website has been developed to keep our members and the general public informed of scheduled events as well as providing our members a resource to perform chapter operational functions, and a location to archive out Chapter's history, activities, reports and events.
Upcoming Events
Chapter Meeting, Wednesday November 5th
5:00pm, Hampton Inn, Colchester
Modern Developments in Integrated Pump Controls
Hydronic pumping technology has changed more over the past 10 years than it had in the previous 50 years.  The days of specifying a variable speed drive system for a pump set that takes up an entire full sized electrical wall panel are over.  The increased reliability of modern drive technology allows us to mount integrated controls right on the pump, freeing up wall space and eliminating auxiliary wiring and controls costs.  Likewise, several of the old rules of thumb for selecting pumps have been invalidated in light of these new technologies, enabling us to select pumps for lower first cost AND lower operational cost.
This presentation will examine several of the latest technologies to be applied to pumped hydronic systems including variable speed pumping, integrated variable speed drives, sensorless pump control, and load limiting logic.  Other topics that we will touch on include parallel sensorless pump control strategies and integrated chilled water plant control with the Equal Marginal Performance Principle.
Meeting Agenda:
5:00 Social hour
6:00 Chapter Business
6:15 Dinner
7:00 – 8:00 Presentation
Presenter Bio: After a four year stint in the USMC, George Denecke attended the University at Buffalo and obtained a BSME degree as well as an MBA.  He has been involved with pumps and pumping technology since 2002 when he first started as in outside sales for a local Bell & Gossett Manufacturers Representative firm.  After 8 years in this position he moved to M/E Engineering PC as consulting engineer specializing in large condenser water systems as well as hydronic and steam design.   He obtained his PE while working as a consulting engineer.  Most recently George moved to Armstrong Fluid Technology as the US Project and Application Engineer.
George is active in the local Niagara Frontier Chapter of ASHRAE and served as Chapter President from 2008-2009.
 Like us on Facebook!