Welcome to the Champlain Valley Chapter of ASHRAE Web Site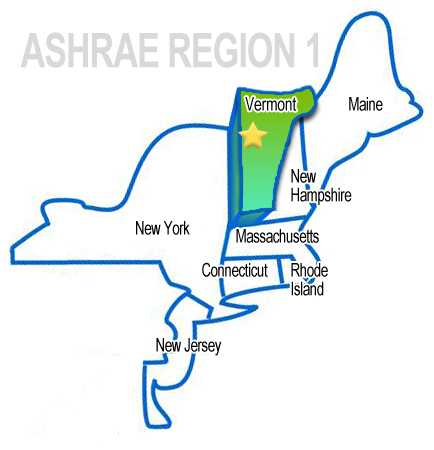 The American Society of Heating, Refrigerating and Air-Conditioning Engineers, (ASHRAE) has 176 Chapters across more than 128 countries. The Champlain Valley Chapter (CVC) of ASHRAE is located in the Burlington, VT area and is one of the 15 chapters within Region I. Our CVC Chapter members are composed of engineers, designers, consultants, contractors, equipment representatives, building owners and operators, and professionals interested in efficient HVAC&R technology. This website has been developed to keep our members and the general public informed of scheduled events as well as providing our members a resource to perform chapter operational functions, and a location to archive out Chapter's history, activities, reports and events.
---
Upcoming Events
Wednesday, December 4
5:30PM, The Hampton Inn, Colchester, VT
Our December meeting will feature the following presentation by ASHRAE Distinguished Lecturer, Gordon Sharp:
A Holistic Overview of Technologies and Strategies to Achieve Deep Energy Reductions in Laboratories
As we strive to build more energy efficient laboratories and vivariums, the most impactful approach is often to reduce the outside airflow.  In the last few years new design approaches such as demand based control of lab air change rates, chilled beams (hydronic cooling), and VAV exhaust fan control have been successfully employed to safely reduce these lab airflows to as low as 2 ACH to cut energy consumption significantly. Although these concepts may been discussed individually in the past, this talk provides a holistic discussion of how these and other energy saving technologies such as heat recovery can be combined to create a whole that is greater than the sum of the parts.  Several case studies will be provided as well as the results of a sophisticated lab energy analysis tool to determine potential energy and capital cost savings for a typical lab building.
Other Upcoming Events

 2014 Northeast Biomass Heating Expo